NORTH PTO DUES
Your dues help support many wonderful activities that support the students, parents and staff of Saint Charles North High School.
2019-2020 dues are $30.00 a family
Pay online by clicking the button below. Thanks!
What happens to the money the PTO receives? We turn it into programs and activities that support the students and teachers at North High School. PTO Funds Support:
Student Bi-annual Heart Screenings

Post Prom

Homecoming Refreshments

Junior Test Day Snacks

Back to School, Curriculum Night & Future Freshman Night Refreshments

Senior Scholarships

Senior Graduation Yard Signs

Teacher Grants

Teacher Appreciation Events

Teacher Conference Dinner

Pizza with the Principal

School Events as Requested
Don't miss November's PTO meeting!
Tuesday, November 5, 7:00pm in the LRC
Matt Cermak gave a very informative and important to the PTO regarding students and vaping.
MAY THE FOURTH BE WITH YOU!
STAFF APPRECIATION LUNCHEON
HUGE THANKS to the wonderful staff appreciation team: Chair Laura Thomas, Maria Gaido. Kerry Hollar. Jen Rothenberg, Jennifer Palazzetti, Shannon Sullivan, Jenny Risch, and Chani McOmber! The North staff had a wonderful week of Star Wars themed items including decorations, mail box surprises, massages, breakfast, treats and a themed luncheon including Star Wars characters. Thank you to all the wonderful North parents who donated drinks and treats to help make this week a wonderful success.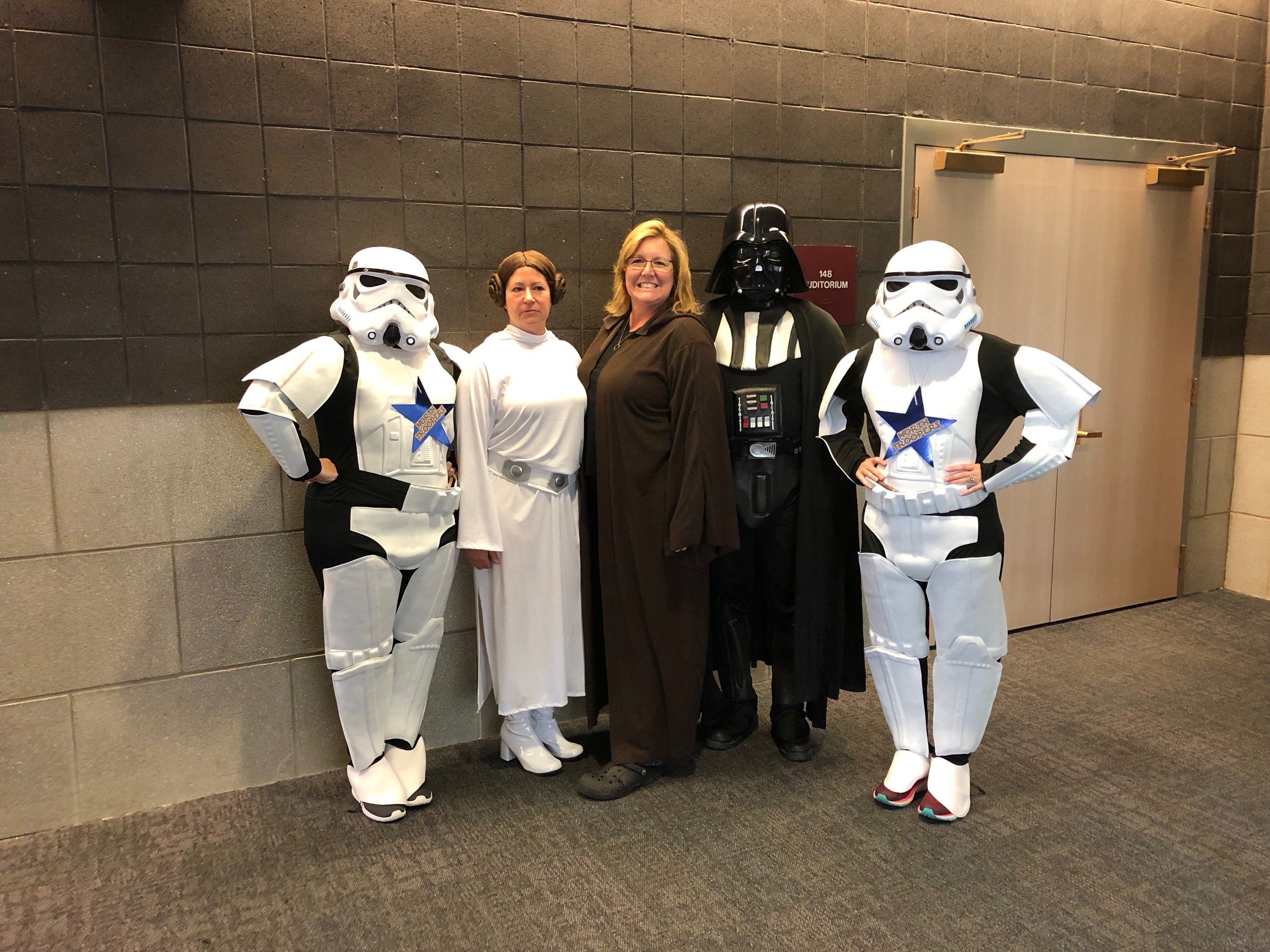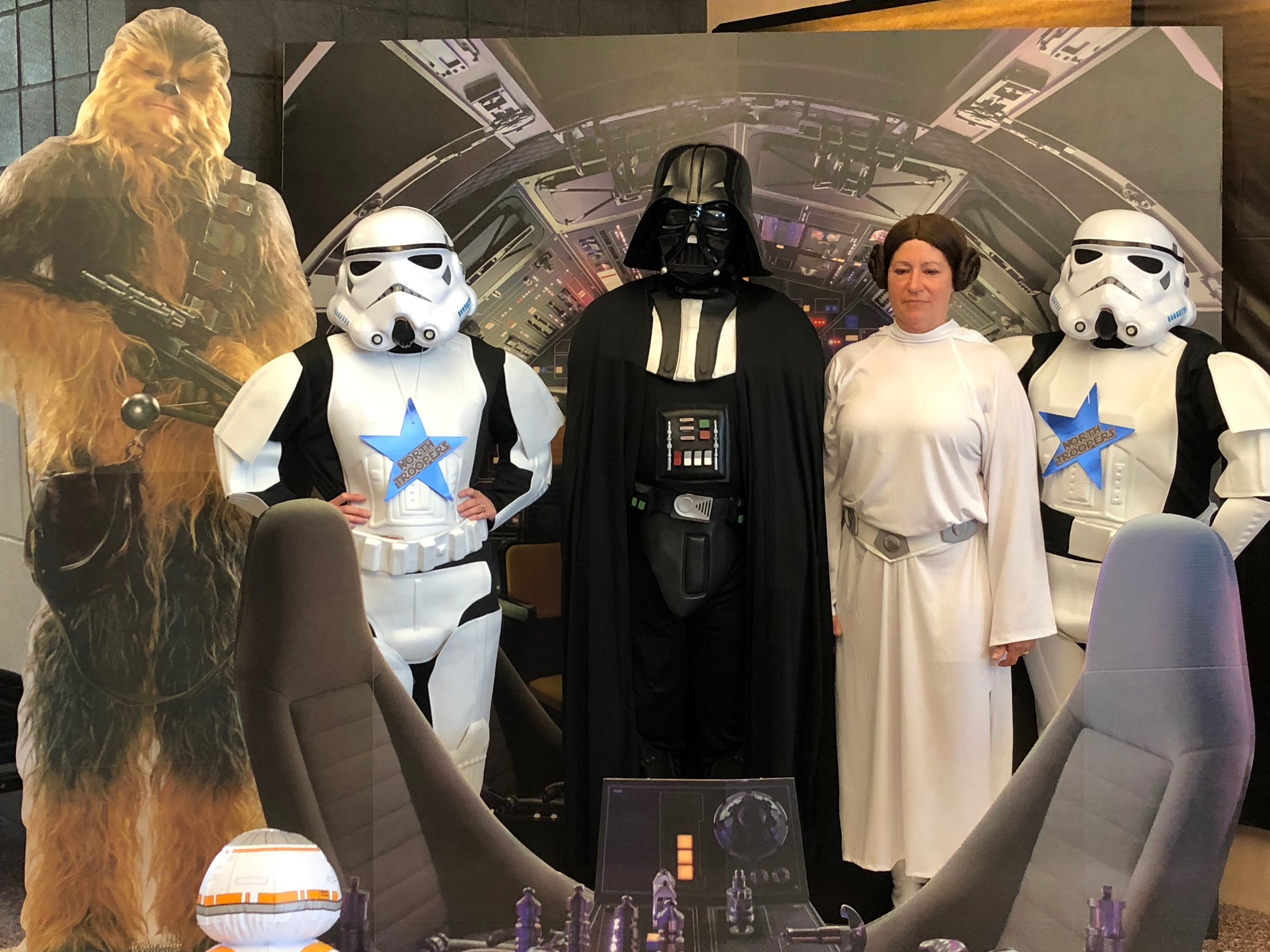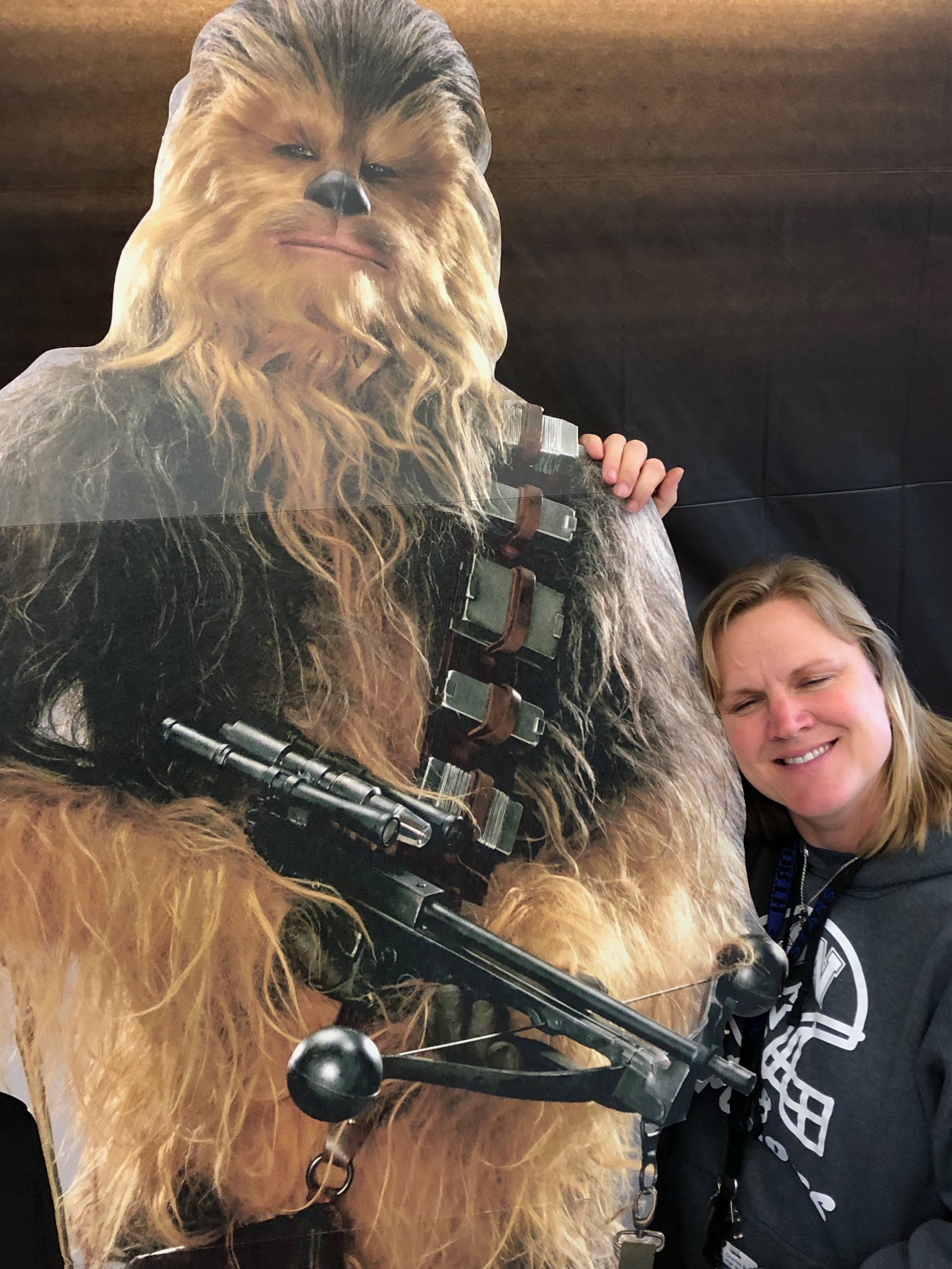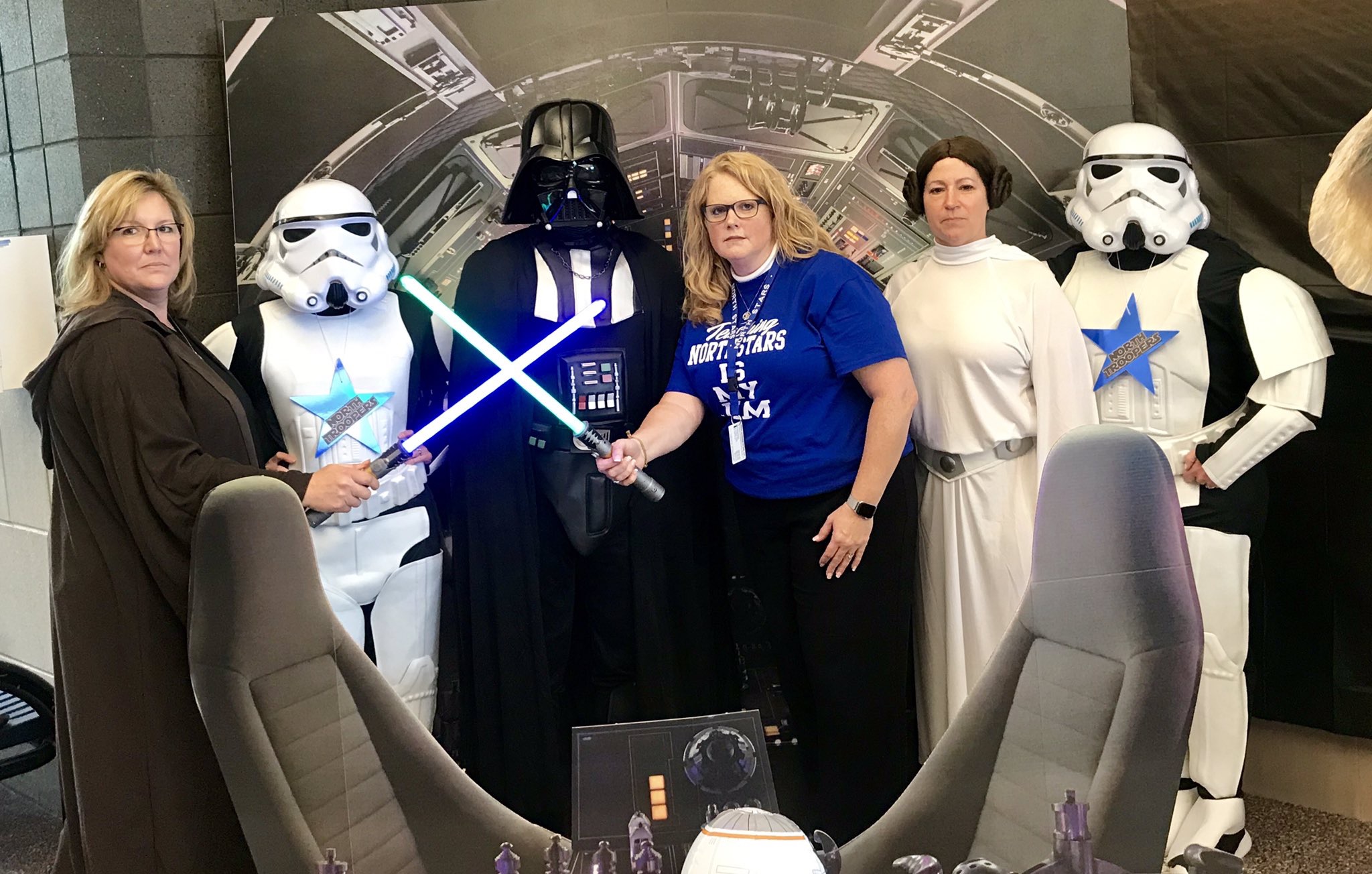 The PTO always supports the Greater St. Charles Education Foundation at their annual fundraiser. This year the event was held on April 6th at Hotel Baker. The Greater St. Charles Education Foundation has donated over 1.4 Million Dollars in grants and scholarships to D303 students.
Thanks for helping keep our teachers sweet this Valentine's Day! (And a special thanks to Stephanie Porteous who chaired the event).
Susan Kloberdanz

Suzanne Lilly

Laura Thomas

Heidi Fairgrieve

Maggie Kumar

Alison Bruns

Monika Gizewicz

Michele Balara

Jessica Cooke

Becky Crow

Leah Lee

Sara Baratta

Katey Kinney

Terry Hamer

Liz Holcomb

Jennifer Rothenberg

Terilyn Turney

Gretchen Martin
Mary Mills

Cheryl Spinazze

Sherrie Klint

Maureen Curran

Jennifer Brooks

Kerry Hollar

Julie Misner

Julie Axelson

Maryann Diazsandin

Lynette Dummer

Tracy Dullea

Laurie Bransky
Pizza With The Principal
Pizza With the Principal was held on Thursday, November 16th. SCN's principal had lunch with 14 students! As always, it was a great event.
Riverside Pizza donated 4 pizzas.
Riverside has two locations:
102 East Main St.,St. Charles, 630-549-6644
456 Redington Drive, South Elgin, 224-227-7744
Thank you Riverside! 😀
* Principal Christenson has been meeting with different students for lunch to discuss what is new in and around the school. Its been a great addition to SCN.
LET YOUR SHOPPING SUPPORT NORTH HS PTO!
You shop. Amazon gives!
Register with Amazon Smile and every time you make eligible purchases, Amazon will donate 0.5% to North PTO.
It's easy to sign up, doesn't cost you anything, and will directly benefit our students & school.

How to Set It Up:
Login using your existing Amazon account or register for an account if you don't already have one.

Under "Pick your own charitable organization" search for "St. Charles North High School PTO".

Click "Select" and you're done! You should get a confirmation email.
Thank you for supporting SCN PTO!
FAQ:
Where will the money go?
It goes directly to North PTO to help offset costs for Homecoming, Post Prom, Bi-Annual Heart Screening, Teacher Hospitality Events, Classroom Grants, and many more!
Will my purchases on regular Amazon benefit North PTO?
No, you need to shop directly through Amazon Smile portal; use https://smile.amazon.com when you shop. After you register you'll need to use this link every time (you can use your current Amazon account and password, you just need to use different web address).
Can anyone register for Amazon Smile?
YES! You do not need to be affiliated with North HS. TELL YOUR FAMILY & FRIENDS, TOO!
Do all purchases at Amazon qualify for Amazon Smile?
Not all items qualify. In the description of qualifying items, you will see this indication: Eligible for donation.
Join us at the next PTO meeting
Meetings are located in the LRC and usually run 1-1.5 hours. All are welcome!
Our schedule: 2019-2020
The SCNPTO does not hold PTO meetings in JANUARY. We will resume PTO meetings in September of 2019. Please join us!
PTO Meetings:
Tuesday, September 3rd
Tuesday, October 1st
Tuesday, November 5th
Tuesday, December 10th (PTO University - School registration with Assistant Principal John Peters)
Tuesday, February 4th
Tuesday, March 3rd
Tuesday, April 7th
May meeting TBD
St. Charles North High School PTO
Parents • Teachers • Students